Have you noticed the astonishing proliferation of awards nowadays?
As I hope you know, these shindigs are run chiefly for the benefit of those who run them. If you ever become a judge you soon realise the whole process is a farce.
There is hardly anything, not matter how dull, trivial or silly, that you can't win an award for. Even as I write someone is probably planning The Golden Award Award, to go to the sly fox who comes up with the silliest award programme.
But there has never been an award for one thing as far as I know. That is because it is so unsexy, dull and uncreative hardly anybody pays it any attention. Yet if you get it wrong it can kill your business.
What am I talking about? Those dull, run-of-the-mill but essential communications that go out every day concerning dull, run-of-the-mill but essential matters.
Here is one from British Airways. And beneath it,  the response from the man who received it. As you can see, although British Airways gave no thought to their letter, he took a lot more trouble.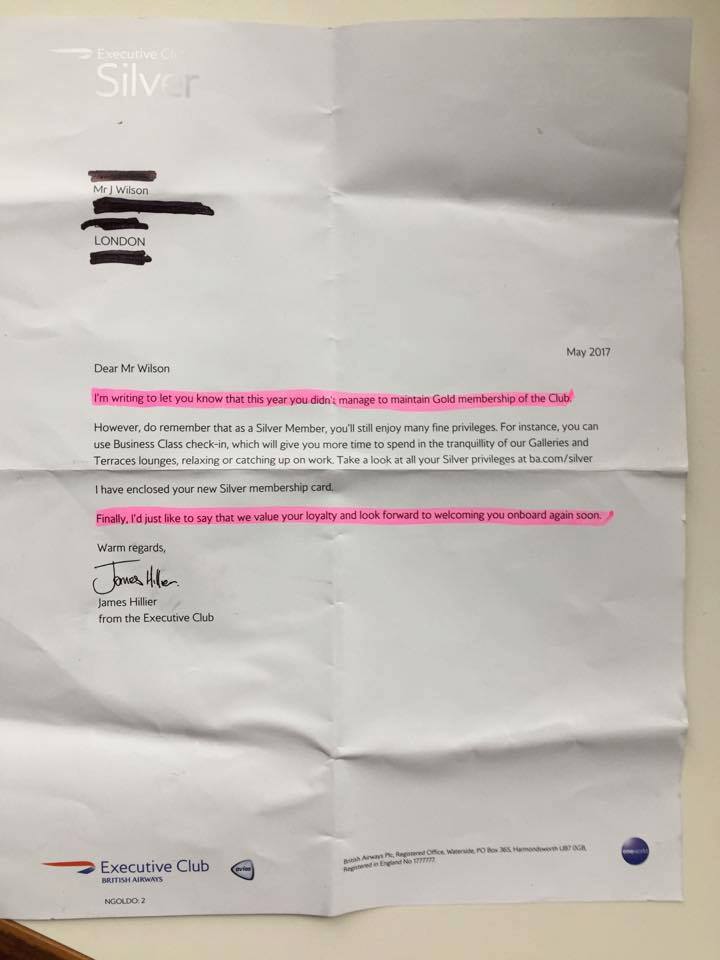 And how do you think the recipient felt about this letter?
Dear British Airways and Mr Alex Cruz, CEO

Thank you for the Silver Membership letter and card that I received today in the mail (attached). I want to thank you for all of the aviation experiences that we have shared over the past years, including my three consecutive years as a Gold Executive Club member.

However, I want to talk openly about both the letter and how I chose other airlines on other alliances over the past six months for my business and personal travel needs. I think you need some honest and potentially blunt feedback on why a Business Traveller based in London who flies 9-12 long haul flights plus 8-10 Continental European flights per year has actively chosen to spend my personal and my company's budget elsewhere.

First, I'll take issue with the letter which is indicative of two things – your privilege and where your focus on customer loyalty lies. The "thank you for your business" part of the mail comes in the last sentence of the letter instead of the beginning. Instead, the "you've been rejected for gold membership as you didn't qualify" is what message you lead with – on a customer that has spent many thousands of pounds with you in the past years and has the potential to spend even more. This tone in communications takes my business for granted and also shows where the focus of BA has moved – perceived status over substance, and a lack of gratitude for customer value spent with you. When I joined the Executive Club, you were much better at this. The customer – especially the top spending customers – was treated exceptionally well, in communication, each interaction and it was genuine. Now, I'm pretty certain that's not the case.

Second (and it's kind of a follow-on to the last paragraph), I don't think that the management of your company realizes that customer loyalty is earned and can be lost based on experiences. Every single time I book one of the 20-30 flights that I take a year, I have a choice to spend that money with you or with others. Over the past eight months, I've actively chosen to spend my money elsewhere because of three things: quality of in-flight experience, customer service by ground and phone staff and price to value. Your value for Club World/Club Europe and even full fare Premium Economy tickets just isn't there anymore compared to other Premium carriers – even on European flights. No, it's not about the sandwich that I wasn't going to eat anyway. It's about the investment that you are actively choosing to not make in the flyer experience. I could understand that mentality in making Economy flights as full and economical as possible. However, you've bled that 'as cheap as possible' experience into the products and experiences that people actually pay for. Your competitors are eating you for lunch here because most of them have a better product in the air, their customer service is active, attentive and most of all, authentic, and, they charge less.

Last, I want you to know how much I want to see you succeed. Most of my best experiences in air were on BA prior to the past year I flew you. However, there has been a significant downturn in your product and in your gratitude for business travellers like myself – who for the better part of a decade were your main target demographic for more expensive fares. Please be reflective on the actions that you are taking that are forcing travellers like me to choose other airlines. Those of us who are want to see you return to the glory we know you are capable of delivering.

Finally, I'm going to respond to your letter the same way that you responded to my Silver membership this year:

"I'm writing to let you know that this year you didn't manage to maintain my first choice of airlines for my travel purchases this year.

"However, do remember that as one of my secondary airlines, you will still enjoy many fine privileges. For instance, when you are the lowest cost airline or the only choice for a non-stop to a European location, I will look to choose you. In the meantime, you can try to sell the empty seat in Club World or Club Europe that I am not buying to someone else. Take a look at my past purchases in my passenger manifest to see what you are not able to recognise as revenue.

"Finally, I'd just like to say that I value the British Airways that you were in the past – the customer service, experience and value for money that you had in years past is very missed. If you choose to improve your products, I would be interested in potentially spending my money with you again. However, in the near future, that is not possible."

Warm Regards,

Jeff Wilson

P.S. I really mean it, please improve. Some of us really miss the British Airways quality experience. Be the leader and innovator, not the follower.
Mr. Wilson was obviously a very loyal customer. Such loyalty takes years to engender, but very little to destroy. And because I keep an eye on such trivia I am pretty sure they have been sending out the same letter for years.
Who has bothered to ask themselves if it is a good letter? Nobody. It is not sexy or creative enough. They are too busy thinking about digital strategy or the latest TV ad to bother with what matters to the customers they are busy losing
Do you suppose Mr. Cruz, as he presides in pomp over British Airways. has ever bothered to read the drivel his staff send out? Do you suppose that the top marketing guy – who is probably a Chief Officer of something or other  absurd – ever bothers?
Of course they don't. They are too grand and important and incompetent and overpaid.
Yet I recall that when, years ago I had some exchanges with the then Mr. Richard Branson he paid great attention to these things. And one of my favourite anecdotes is of the Duke of Wellington who, when asked to what he accounted his victories, replied "Attention to detail".
British Airways and others like them are fighting a war they cannot win because of their supine inattention to little things that make big differences.
Do you, in your struggle to win, think such things matter? I do, and this is one of the many matters – some trivial, some not – that I think important to your success.
Far too many are overlooked. Perhaps by you. I shall be discussing them all at My Last Hurrah, which is the fruit of working with many firms large and small including, as it happens, British Airways and Virgin.
Best,
Drayton