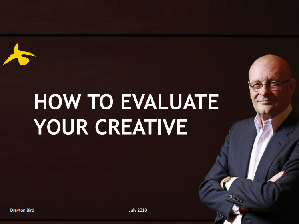 Click here to get your 15-point check-list – it opens in a new window.
(To download the list to your computer, right click the link above and select 'save link as'.)
What's missing from the list?
Talent.
I have spent 52 years recruiting and training people. Yes; I'm so damned old I recruited my first copywriter in 1964 – he ended up running his own agency.
I've written ads, tv and radio spots, presentations, speeches, films, leaflets, websites, landing pages. And I still write stuff every day – like this email.
So if you've read this far I guess I still know what I'm doing.
But there is one sad, inescapable fact. Some people have talent – others don't.
If you have something that should be selling, but isn't …
If you have a proposition that should work, but doesn't …
If your copy should sell, but doesn't …
Send Gerald (gerald@draytonbird.com) an email with a subject of 'Drayton's list'.
Do it now, before you read another email
I'll review your copy or your proposition and tell you what I think – no charge.
There is hardly anything I haven't helped to sell – from Mercedes cars to model London buses.
So I can usually make helpful comments.
Why am I making you this free offer? Because some of you will decide to call on my help.
And one of you may become an important client.
By the way …
Do you make free offers in your business? Are they working?
That's another subject I can advise you on.
In fact there are very few areas where my colleagues and I can't help.
So what have you got to lose – except a few sleepless nights?
Read the check list, then send Gerald that email.
Happy to help.
Drayton