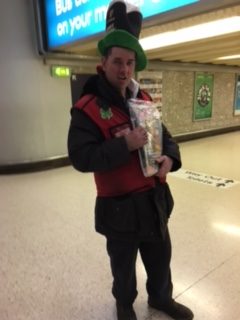 I see this man pretty much every time I head through my local train station – Bristol Temple Meads.
He's there in the morning, there in the evening – amazingly diligent.
You can learn valuable business lessons from him.
Because not only is he amazingly diligent: he's also imaginative.
As you see he's wearing a silly hat – it was St. Patrick's Day.
It made him hard to miss … and it raised a lot of smiles.
Just about your most important challenge is to be noticed.
Another reason he impresses me is that he's very persistent.
I have walked past him at least 15 times.
I actually said to him once "If you persevere I'll probably end up giving you some money. "
Friday was the day I did.
Never assume that because people don't respond the first time you speak to them. Or the second time. Or the third time or the fiftieth time … they're not interested.
They could respond eventually.
My friend Murray Raphael used to say "People buy when it suits them, not when it suits you."
The last time I counted we were sending out something like 370 emails offering free advice to people who subscribe to Ask Drayton.
I was astonished to learn that some people actually sign up after 3 years.
I was also astonished that quite regularly I get e-mails from people saying "I've been thinking about using your services but I can't afford it." or "I'm thinking about using you but I'm not ready yet."
You never know when people are ready to buy.
They buy when they need to – maybe when their situation has changed and they suddenly have a need for what you sell.
What else can you learn from this chap?
Well, if you're selling the Big Issue – a charity paper – or anything else, one of the smartest moves you can make is to be in the right place.
Bristol Temple Meads has got to be one of the best places in Bristol to be seen. It's crowded all day long.
He's the first Big Issue guy I've seen in the subway there.
Another thing that helps in your life, whether you like it or not, is motivation.
"When a man knows he is to be hanged in a fortnight, it concentrates his mind wonderfully" – Dr. Johnson.
When I said to this guy a couple of weeks ago that he seemed to be there every day.
He smiled and said "I'm married."
If you do what I do – i.e. you write and hope people will read – open your eyes, look around you, and especially watch out for what people who make money on the streets do.
You can find lessons everywhere – just as with this gentleman – and the best are very rarely found in jargon-strewn guff about marketing.
The lessons here?
You must above all get noticed.
You are more likely to get noticed if you're in the right place: targeting matters more than wacky ideas.
But a relevant wacky idea helps
Don't assume people aren't interested if they don't buy. Never give up.
If you're not motivated – and you can't motive others – you won't succeed: morale is half the battle
Keep your eyes open
By the way if you find this advice at all useful why not sign up to get my Helpful Ideas, if you aren't doing so already.
You'll get the lessons of a lifetime.
And if you want me to give you most of those lessons in two days, well, keep your eyes open for my Last Hurrah event in Bristol on 28/29th June.
You'll get full details this week.