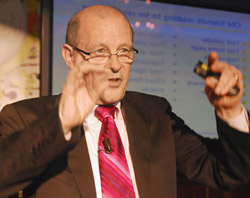 Where is he going? Could he help you?
In the last year or so Drayton has spoken in Australia, China, the Czech Republic, Cuba, Netherlands, Romania, Russia, Slovenia, Ukraine and of course the UK where most recently he was the lead keynote at the International Direct Marketing Fair.
His subjects have included: what direct marketing is about – and how to do it, how to improve your creative, online versus offline, why direct mail still works and probably always will, how to do direct marketing for charity – and everything down to a two day seminar on how to market cars.
The chief ingredients are lots of examples showing what works and why, plenty of commonsense – and a liberal helping of scepticism about some of the waffle marketers seem to pass round among each other.
In five of those countries just mentioned, Marta Caricato has also delivered talks on how to get better results online which gets rave reviews. Drayton thinks it's because she looks nicer than he does; other people say it's because she knows what she is talking about.
What can we do for you?
Could we help you? Are you putting together an event? Do you need a "funny, informative and inspiring" speaker? Do you need someone who gives simple, sensible advice on how to get better results – starting immediately?
You may want a DM day. Or perhaps you are planning a corporate or industry event: we have spoken for such wildly varied audiences as the PPA, The Theatrical Managers Association and the Netherlands Annual DM Awards, to the world's second largest cement firm, the leading newspaper in the Philippines – to a training session for just eleven people from Virgin Wines.
So far we have delivered direct marketing speeches and seminars in 43 countries. They have ranged from wide-ranging seminars covering the essentials of direct and digital marketing to after-dinner speeches to specialized seminars on subjects like branding, research and on-line creative.
People seem to like what they hear and see, because they say they get better results – and keep inviting us back. In the next few months, Drayton is speaking in Latvia, Romania, Slovenia, Croatia, Bulgaria and Belgium (sometimes also with Marta) again on a wide range of subjects from door-to-door marketing to the launch of the new EADIM direct marketing qualification.
Everything tailored for you
No matter what you may require, everything we do is bespoke for you and your particular needs. And what we do is very well received. In fact we have never had a complaint of any kind.
"I just wanted to thank you for speaking at the Glass's conference yesterday. The content was hugely entertaining, inspiring and most importantly, totally relevant. I'm sure you won't be surprised to learn that you came out top by some considerable margin on our feedback forms."
Lucy Brazier, Glass's Guide
"Drayton Bird doesn't teach, he inspires you. One day with Drayton Bird is worth a month with most other advertising professionals"
Rod Pullen, Managing Director, Batey Advertising
"What a star you are! You gave the conference the credibility and kudos it needed. Your presentation was excellent".
Head of Customer Management, Bank of Scotland
"The highlight of our 2-day conference … one of the best, or the best anyone could remember"
Canadian Direct Marketing Association
Click here to read more comments.